You're a therapist, not a marketing director, and you probably didn't learn how to get clients in school, at least not as part of your degree path. But now you are running a practice you surely could use more business, help more people, and, of course, make more money.
But how do you do that? Well, that's just what this article is designed to help you with. Whether you are just starting your practice or have been up and running for years, buckling down on your marketing efforts can help you build the business you have always dreamed of.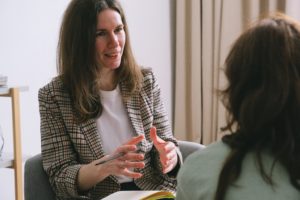 Your Practice is a Business
At the core of your practice, you are running a business and providing a service, an important one. In my experience, a lot of therapists are uncomfortable marketing themselves because they feel that it goes against their purpose in pursuing their path as a mental health professional, to begin with.
However, let me present to you an alternative view. The better your marketing, the more people you are able to help. Not only that, but when the marketing is done right, the potential clients will be able to see if you fit their needs or if another therapist is a better fit. This means they get help faster and you don't lose clients that were never a good fit in the first place.
So, how can you market ethically and effectively? The first step is to identify your ideal client.
You want to help people, but to do that you need to know who you want to help. This partly depends on your competition and partly on your career path. You will have to look at yourself and your practice and research the market to determine the best path for growth.
Who are the clients that you want to target? A lot of therapists focus on a certain age group, gender, income range, and other factors. While you may not want to limit yourself to one of these, especially toward the beginning of your career, deciding who to market to will help you narrow your efforts and reap the rewards of doing so.
What is your market like? Look at the market you aim to enter or continue to grow within. Are you wanting to stay local or utilize online platforms and services as well as other telehealth options? When it comes to your competition, you want to see if there is saturation in certain specialization areas and mental health services as well. You do want to stand out after all.
What is your ideal client looking for? To reach your preferred clientele, you have to let them know that you provide the thing they are looking for. Regardless of what methods you choose for marketing, you want to answer your target audience's questions and concerns or provide the information that they are seeking.
How does your practice help them find what they seek? You need to not only know who you are trying to reach but how you can help them. If they see no benefit in the services you are offering, then they are unlikely to pursue a session. You should nail down the problems they are facing and how you can help them solve those problems.
Methods to Reach Your Ideal Client
There are a lot of ways to reach possible clients and they may not all be for you. That's okay. Depending on your goals, you may just want to start slowing with one or two so that you can see how it goes. You also don't want to overcomplicate things or distract yourself from your current clients and their needs, as well as your own. Let's check out some of the options you have, how they work, and how you may be able to get started.
Networking
Networking is one of the best things you can do for your practice. Not only can it help you obtain more clients, but it can also provide continuous learning so that you can help them in new ways. There are tons of ways to network depending on your personality and goals.
Meeting other therapists, especially when you have a specific specialty, can help you get referrals. While you probably don't want to ask for referrals immediately, you can get to know people and they may think of you first when someone tells them they are looking for a therapist to help them with a particular problem that you are experienced in treating.
You can join a group online or in-person, as long as you are building connections it will work. This method will inevitably take some time, but can be an essential part of your long-term marketing strategy.
You can also get involved in your local community. Volunteer for causes you care about, speak publicly about certain issues and get to know the people that are around you. Not only could they refer someone to you, but everyone is a possible client.
Having a business card and an elevator pitch can be helpful because it gives you an easy way to pass on your contact information and tell them what you do. Make sure that you are specific and short-winded so that they know you and what services you provide without sounding salesy or pushy.
Finally, if you have a new practice you may want to consider taking insurance. While some therapists like to avoid this, a lot of people will look at their insured provider lists without even considering any mental health professionals not listed.
Website
Having a professional website can be highly beneficial and it can be an affordable way to get more clients, help more people, and grow your practice in your community. You want the website to mirror the services you offer and appear on Google when people in your area look for mental health professionals, particularly with issues that you specialize in. You can also have an "About Me" page and other resources that can help potential clients decide if you are someone they can talk to comfortably.
It is easy to find reasonably priced domains and hosting services to start building your website and for many of them, you don't need any technical knowledge to make it presentable. There are even hosting companies that cater directly toward therapists like Brighter Vision and TherapySites. However, if you don't feel like taking the time to do it yourself, you can also hire a Web Developer.
To get traffic to your website, you will have to make sure that it ranks on Google, at least for your local area. This requires Search Engine Optimization (SEO) knowledge, but not necessarily much. Knowing the things that people will search for that may be interested in your services is the first step.
This may be directly related to your services. For example, they may search for "Family Therapy in San Antonio, TX." However, it may be more indirect, like someone searching for "How to help my teenager with anger." Some of this is easier than others and it can help to keep a blog on the website to help with appearing to potential clients, which is the next method on this list.
Blog
Having a blog can help others who have questions about their mental health concerns or therapy. It will also help you rank on search engines for your local area, or if you are searching for clients from anywhere you can reach them too. This is often a preferred marketing method because it is not salesy, and you can get more clients while also providing people with valuable information.
You can create articles based on your specialties and answer common issues that you encounter often. A parent may be worried about a child's nightmares, a teen's excessive phone use, or about their own insomnia. There are endless opportunities for helpful articles that show your expertise and help people who need it.
Building a blog works best when you post regularly. This not only helps your website appear professional and up to date, but it also helps you show up on search engines. Writing blog content that provides value and engages your reader is not easy for everyone, but it is worth a shot. You can also check out my article, "Why Should a Therapist Hire a Writer?"
Social media can work in a similar way as a blog. You can create a Facebook or Instagram page for your business and post content relevant to your services. This can be great for long content, just like a blog, as well as shorter content or copy that allows people to see who you are and what you do.
Paid Advertising
The last method on this list involves paid advertising. This can be a great way to expand your reach in your community or around the country. There are ad opportunities on social media, Google, flyers, newspapers (yes, they still exist), magazines, and more. However, you don't want to spend too much on ads unless you are really confident that the method will actually work. You can try a couple of small advertisements to see if there is a good response before going all in. It can also help to hire a copywriter with experience in these types of ads that will convert people who see them.
Final Thoughts on Marketing for Therapists
As you can see, there are plenty of strategies that you can choose from to market your services once you determine who your target client is and what benefits you provide for them. The method that works best for you will depend on your personality and goals, but many of them can be successful when implemented correctly. Good luck!